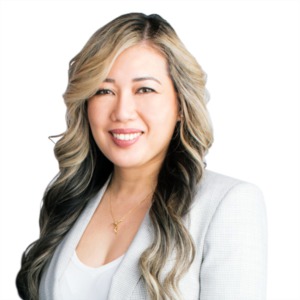 I am one of the founders and leaders of the team. As a licensed REALTOR®, I meet with new and past clients to discuss their needs and provide professional consultations. I am also the listing specialist for our team and manage real estate and business compliance issues.  
I am married to my bestfriend and business partner, Neil Bellosillo. We appreciate spending quality time together with our children: Leianna, Bea & Isaac. We enjoy trying different cuisines and travelling to recharge from our busy schedules. I strive to live my life with purpose beyond my self, therefore, I also make sure that I am highly involved in my community. Every home we sell is a Miracle Home, supporting the Children's Miracle Network while our client events contribute to the Surrey Food Bank. I also proudly support the St. Matthew's Parish community in Fleetwood, Surrey, BC.

It is my desire to always improve and be the best that I can be for the people around me. I am very committed in what I believe in – to always be my best and give my best in everything that I do. By doing so, I can be a light onto others and ultimately honor God.